About Personal Legacy Advisors
Who we are
Susan Turnbull
Founder and Principal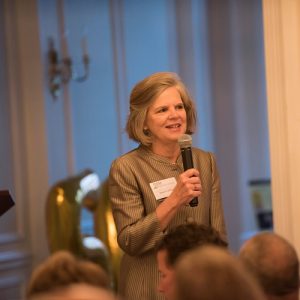 Susan Turnbull is the founder and Principal of Personal Legacy Advisors. A professional writer, speaker and workshop facilitator, she is the author of The Wealth of Your Life: A Step-by-Step Guide for Creating Your Ethical Will, co-author of Across Generations: A Five Step Guide for Creating an Expression of Donor Intent and the designer of the Life Legacy Cards and the Life Legacy Conversations tool, all designed for those who agree that personal wealth has tangible and intangible dimensions.
In her fresh take on the meaning and dimensions of legacy, Susan's dynamic presentations and engaging materials appeal to audiences of financial, estate planning and philanthropic advisors, as well as their clients and donors. Her work has been featured in many national publications, including The New York Times and USA Today.
Susan is a member of the Purposeful Planning Institute, the Boston County Estate Planning Council and the Personal Historians Network Northeast. A graduate of Colby College, she and her husband live in Manchester-by-the-Sea, MA.
In addition to conducting workshops and presentations, Susan provides private coaching services on an hourly basis for individuals, couples and small groups who wish to write their own legacy documents but would find structure and guidance helpful. For those looking for ghostwriting, editing, book design or videography services, Susan provides referrals to experienced personal historians. For details on any of these services, please contact Susan using the form below.
Our tools and services give voice to individual's perspectives, stories, intentions and feelings, in order to strengthen the kind of personal and family health and wealth that grows in value across generations and through time.
Professional collaborators serving clients of Personal Legacy Advisors
Lani Peterson, The Arnzen Group: coach & workshop leader
Lani is a psychologist, life coach, public speaker and professional storyteller. She has extensive experience working with individuals, groups and organizations in the application of narrative as a leadership tool and medium for personal growth, connection and change.  Working with both written and oral forms of communication, Lani specializes in leading clients through personal reflection that results in intentional, meaningful expression. Lani serves on the executive committee of the Healing Story Alliance and is a member of the National Speakers Association. Her CD, Stories from Within, won a 2004 honor from Storytelling World Magazine for her original story "Broken Glass."  Lani lives in Westport, MA.
Pam and Rob Cooper, Verissima Productions: legacy video biographies
Pam and Rob Cooper own Verissima Productions in Cambridge MA, a company dedicated to preserving history with the highest standards of narrative integrity and visual quality. Rob has 30 years experience as a videographer, editor, and producer in major market broadcast, corporate, and documentary production. Pam is a seasoned family therapist and oral historian. Their films have won CINE Golden Eagle, Telly, Emmys, and Communicator Awards, and have appeared on PBS stations internationally. They are members of the Association for Personal Historians, the New England Historic and Genealogical Society, the Mass Historical Society, and the International Institute for Reminiscence and Life Review. When they are not preserving histories, Rob plays traditional Memphis soul and blues, and Pam serves as a volunteer tour guide for Boston by Foot.
Francie King: editor, personal and family histories
Francie is a seasoned writer whose work has appeared in many magazines and newspapers throughout New England. Over the years, she has conducted and taped hundreds of personal interviews, as a news and feature journalist and most recently as development communications officer for the Boston Museum of Fine Arts and Boston University. She considers the personal interview a privilege not blithely granted, a shared experience that requires respect, keen observation, good listening, a sense of humor, and a reverence for both story and story-teller. Francie is a member of the Personal Historians Northeast Network, Boston Women Communicators, the New England Historic Genealogical Society, and a contributing editor of the Marblehead Oral History Project.
David O'Neil, Story Trust: writer: personal, family and business histories
As the founder of Story Trust, David helps families, businesses, and organizations tell their remarkable stories in ways that create a lasting legacy. His projects have ranged from single-person oral histories to full-featured corporate histories for some of the nation's largest firms. He specializes in broadcast-quality oral histories and custom crafted history books for families and businesses. Based in the Boston area, David has been a high-school English teacher, book editor, and publishing executive. He holds a BA in economics from American University and a master's degree in theology from Harvard University.
David D'Apice, The Simon Group: graphic designer
David  is founder of The Simon Group in North Andover, MA. With over 20 years of continuous experience in the marketing and graphic design of collateral material, his firm has been successfully advancing the interests of firms and municipalities throughout New England. David is also an historian, and takes a personal interest in genealogical research, public exhibitions, the archival handling of ephemera, and the preservation of historic ancestral documents. His firm can provide graphic design expertise to clients of Personal Legacy Advisors, whether it be individuals wishing to format their work professionally or advisors who want to create an  invitation or other materials in advance of a presentation by Susan.
Sign up for our email newsletter. Get two helpful references:
List of Values

The Neglected Step in Planning: Consciously Transmitting Intangible Wealth
Contact Susan Turnbull about presentations, materials or services.